Great Hunting and Fishing in Sonora in 2017
Were now well into our prime hunting season and 2017 has not disappointed.  The dove and duck trips have been incredible this year with great numbers.  We have really benefited from expanding our wetlands areas.  The bass fishing has also been off the charts and we are connecting with plenty of big fish right now.  Turkey season is just about to kick off and we are very excited about that too.  It should be another great season for them as well.
Some of our highlights for this winter have been our mule deer and coues deer hunts.  This season we bagged two trophy sized deer of both species.  Our biggest coues deer was an absolute monster that scored out at 130 and we also bagged a big mule deer that scored 202 that had a 32" wide spread.  Throughout deer season we did have some rain which made visibility more difficult.  The bushes grew up and with the rain and wind the deer didn't move too much, but with persistence, we were still able to put our clients on some trophy caliber deer.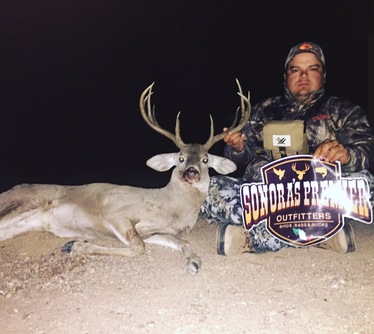 We continue to be busy with negotiations on securing new areas for our clients to hunt.  Currently, our focus is locking down some areas to hunt some desert sheep for next season.  The way things are going, it is looking promising that we can add that to our list of trips we offer.  We will keep everyone updated on what is going on with those negotiations.
The hunting and fishing continues to be stellar in the 2017 season.  With the turkey season just beginning and the bass fishing being exceptional, there is no better time to join us in Sonora, Mexico.  Call us to create hunting and fishing memories that will last a lifetime. –Book Now!